Our Lawyers Have Over 200 5-Star Google Reviews
HIRE THE TOP RATED CRIMINAL DEFENSE ATTORNEYS IN
SPRINGFIELD, MO
An unfortunate, life-changing event just happened to you. You have come into contact with a law enforcement officer, and you were arrested for an alleged crime. You are angry. You are confused. You are embarrassed.
It is understandable that you are angry. You could be angry at the officer, especially if you feel they treated you wrongly. You could be angry with your friends, because maybe hanging out with them this one last time has put you in the wrong place at the wrong time. You could be angry at yourself. How could this have happened to you?
It is reasonable that you are confused. What happens next? You have heard so many stories, and so much contradicting advice. Who do you go to? What do you do? Is the cop really going to cut you a break like he said he would? When does the next thing happen, and how much time do you have to act?
It is possible that you are embarrassed. How do you tell your family, your kids, and your work? You wish this never happened, and you want this to go away. But it is not going to go away on its own. Hiding will not make it end and will only make the situation worse.
Life can present difficult situations and decisions for you and your family. We are familiar with the questions that are going through your head. We understand that you are not the first person that has these questions, and you are certainly are not the first person we have helped with the answering of these questions. We understand how stressful and confusing these circumstances can be and would like to help you find your way through this situation with the best outcome.
The situation could be as serious as a Federal Crime or a Greene County homicide, an unfortunate drinking and driving situation that requires a DWI attorney or as minor as a Springfield Municipal speeding ticket. Each type of case has unique issues and consequences. Every person that walks through our door has different reason to be frustrated, angry or scared. And every person that walks through our door needs an ally. We want to be your ally.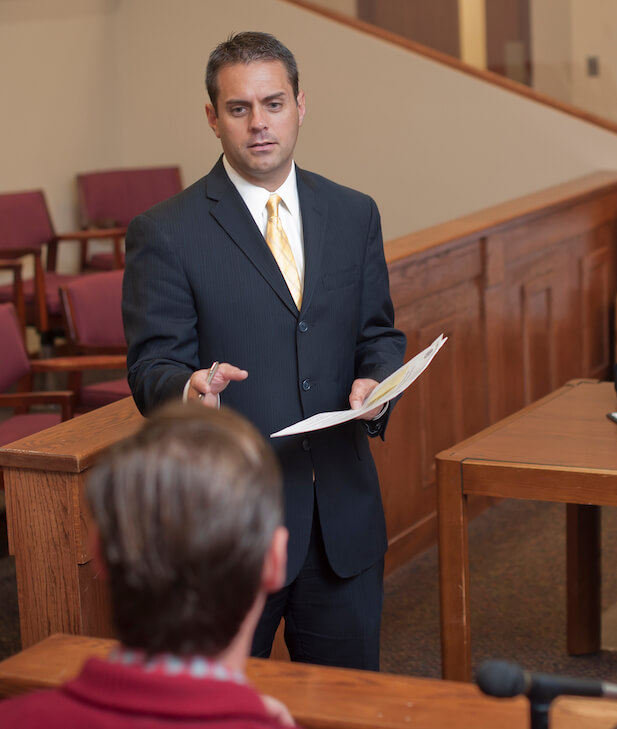 OUR EXPERIENCE IS
WHAT SETS US APART
With MRD Lawyers, you will work with some of the most experienced criminal defense attorneys in Springfield, MO . Our combined 18 years of experience as Greene County prosecutors gives us an inside view for how to help our clients navigate the complexities of any criminal charge ranging from a felony drug possession charge, DWI's, to assault and even murder.
This sets us apart from other Springfield, Missouri Criminal Defense Lawyers. We know the system from both sides, and this allows us to direct your unique case to the correct outcome. So if you find yourself in an unfortunate situation where you need an attorney to fight a federal charge, a DWI attorney or just a minor traffic incident, you can count on MRD Lawyers.
CONTACT US
OUR ATTORNEYS
As one of the areas top rated dwi attorneys in Springfield, MO we have handled thousands of Springfield DWI cases, and we are a trusted DWI attorney team that can help you have a solid defense strategy for your individual case. We fight for you in court, but we also help you make good decisions that help reduce the long-term impact of an alcohol or drug related traffic offense.
When you are looking for lawyers in Springfield, MO look no further than MRD Lawyers. We serve in the Municipal and State Courts of Greene County, Christian County, Dade County, Dallas County, Lawrence County, Polk County, Stone County, Taney County and Webster County and Federal Court.
MEET OUR TEAM
WHAT OUR
CLIENTS SAY ABOUT US
Ryan B.
This law firm is outstanding. Quick to make an appointment and very helpful on the situation I'm going through. I highly recommend MRD lawyers. Very professional and informative. Don't hesitate to give them a call! They are awesome!
Hunter Adkison
Matt Russell and staff are Down to earth, genuine human beings who made me feel like they really cared about my individual case. Matt made a lasting impact on my life with the results he was able to provide. Very satisfied client; highly recommend.
Annie Nguyen
Matt Russell and his staff are truly amazing. I am so happy to have Matt helping us. He is very honest, caring and has been so helpful with everything. I am so glad that I found Matt. He is very genuine and over all a good guy to have on your side.
Cinder Ella
Matt and his team exceeded my expectations in every way. Legal issues are in no way pleasant but I was made to feel well-represented, informed and respected during the entire process.
Tim & Anamei
I hired Russel Dempsey for my DWI case and from the beginning he was very professional and easy to deal with. He was able to break everything down for me and basically tell me how things would go. It was the first time I was in trouble with the law and he helped me understand what was going on and could answer any question I had. I received the news today after two longs years of my case being drug out (not Russel's fault) that my case has been dropped. I 100% recommend him and his practice.
Chelle Blair
Where do I start? I thought I was going to have to plead guilty!! That was over a year ago. Fast forward to today and I just got news that case was dismissed!!! If it was not for the diligence and expertise of Matt Russell that would not have happened. The staff is always super friendly and great at sending reminders for all court dates etc. Nobody wants to go to court, but if you do you want it to go as smoothly as possible and you want to be represented by the best....and that's MRD lawyers.
John Sebag
Matthew was awesome! He was able to take care of my ticket and he was very responsive with all my inquiries. I would recommend MRD Lawyers to anyone who's having any legal troubles.
Jeff Long
Can't say enough good things about Matt Russell. Very professional and gets things done. Very friendly and just awesome all around if you go anywhere else your wasting your time and money. Thank you again Matt you freaking Rock man!!!
David Bradshaw
Matthew is truly one of a kind. Definitely does not fit the stereotype of your typical lawyer. He has gone above and beyond to help out me and my family. . Will always be grateful to Matthew for the kindness he showed me
Cody Brown
An extremely effective law firm that individualized my case, provided options and expectations and got results.
Charles Johnston
So I decided to do some research on the law firm,I discovered that they help with the overflow for the public defenders office.its nice to know that not all court appointed lawyers work for the state and I like companies who help those in there community.
Micah Seago
I would highly recommend working with MRD Lawyers. Russell was extremely kind, knowledgeable, and understanding of my circumstances and helped explain everything to ensure that I understood my case and what my options were. I was pleasantly amazed every time we met to discuss where we were at and the next steps. I went into everything expecting the worst but Russell helped to calm my nerves and ensured that I received the best resolution to my case while also exceeding my expectations!
Rob Broadbent
If you're here unfortunately you're in need of a lawyer... No need to look any further! Matthew works as hard as can be to get you the best possible outcome for your case!
Preston Henry
Mr.Russell did such a good job with my case. I was amazed with how familiar he was with the judge and prosecutors, I mean that in a good way. I have never seen any lawyer make a judge laugh and it made me much more comfortable when he did. I owe a huge thanks to the whole firm for helping me, they were extremely responsive even when I was residing out of state. The communication system that they have with their emails and easy access was all around well organized and quick. Thanks Matt! God bless you guys.
Consult With Our Experieced
Lawyers For Your Criminal &
Traffic Litigation Legal Needs.
With over over 18 years of combined experience as prosecutors and over 35 years of combined legal experience, we know the way in which your case will be prosecuted against you. If you are in need of a lawyer, then hire the top rated attorneys in Springfield, MO to handle your legal needs.
CONTACT US
Form is Secure and your info will remain confidential